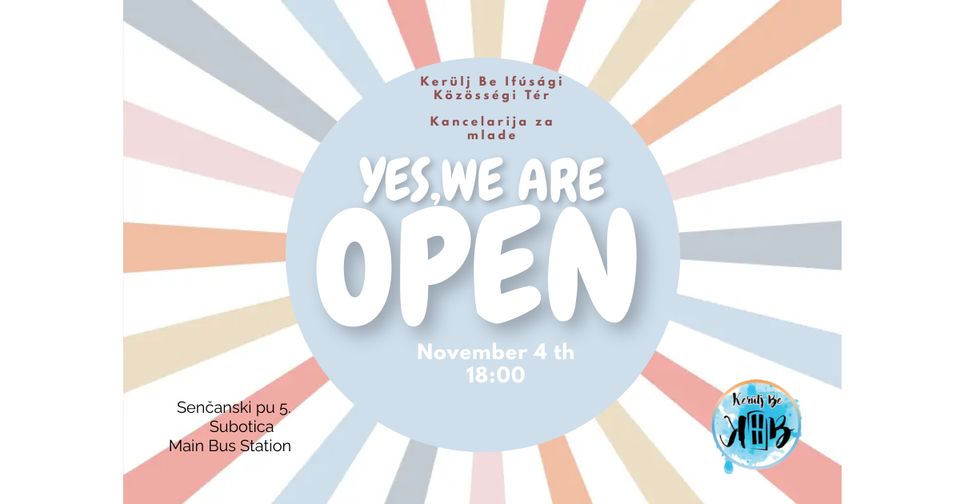 Opening ceremony / Kerülj be
Petak, 4. novembar 2022, Kerulj be (Kancelarija za mlade, Senćanski put 5 – Autobuska stanica), 18:00- 21:00.
.
Dragi mladi, imamo dobre vesti, jer ponovo otvaramo omladinski klub, na novoj lokaciji!
Očekivamo vas na našem otvaranju, gde konačno možemo ponovo da preuzmemo jedini subotički omladinksi klub.
Na događaju otvaranja imaćete priliku da isprobate našu već poznatu Don't Skip offline igru za upoznavanje!
.
Da li vam se ikada dogodilo da ste zaista želeli da upoznate nekoga, ali niste imali hrabrosti da preuzmete inicijativu? Sada vam dajemo priliku da upoznate nekoliko novih lica ne samo onlajn, već i uživo.
Na našem programu nudimo vam poznanstvo slično spoju na slepo, ali NEMOJTE se pridružiti samo ako tražite partnera vec možete i da steknete sjajne prijatelje.
Uzbudljiva pitanja, 15 minutni razgovori sa slučajnim ljudima, ko zna, možda će tvoj budući najbolji prijatelj biti tamo…